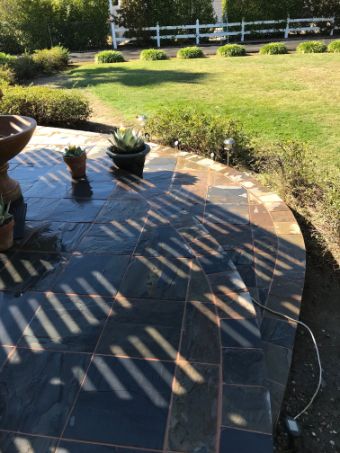 Just as a wearer knows where the shoe pinches, a homeowner knows the magnitude of excitement while planning for a patio by using paving stones. Nevertheless, it is a frenetic job. It is simply because, if not executed properly, your time, treasure, and talent will be misspent. 
On the other hand, the beauty and elegance of driveways and walkways made at Camarillo Concrete & Masonry become the cynosure of all eyes of passersby. We strictly adhere to Quality Control (QC). Our QC examiners check the work at every stage of operation. To ensure various specifications such as honed, finish, natural, antique, calibrated, and tumbled.
To know more about how we can serve you on your Camarillo paving stones project, dial (805) 500-2715 with free estimate now!
Reasons for Choosing Paving Stones
Camouflages Pest Objects
When unwanted materials like oil or grease are put on pave, it can quickly be removed, but not if put on concrete.
Wide Options
A wide option and combinations of colors, designs, and texture are available.
Immediate Readiness.
Unlike a curing time of twenty-eight days for concrete, stone paving is ready for traffic immediately.
Ease of Adjustment
If the paver base is moved, only the particular paver can be replaced with a minimum possible cost. This is not possible for concrete.
Slip-Resistant
As the paving stones are individually joined, rainwater drains out immediately, reducing the chances of slipping.
Types of Paving Stones
You can get the real advantages of paving stones if you choose the right type suiting to your objective. While enumerating the types of paving stones, we have made specific recommendations that will ensure the durability and comfort of walking if you adopt them.
Sandstone and Bluestones
Bluestone is a form of Sandstone. It will suit you if you are in a lookout for golden, yellowish or beige colors. You will find it particularly suitable for undercover areas. As the name signifies, Bluestone is bluish-grey in color.
Limestone
It is one of the toughest sedimentary rocks that can be dressed and sized to the desired length, shape, and size. Obviously, you may find it a little costlier compared to other types. But, you can be assured of its durability.
Slate
Although it is economical, its characteristics of durability and non-slippery make it a common choice. But, you have a single choice of dark shade.
Granite
It is naturally formed from molten lava and is hence the toughest of all the paving stones. Its utility will continue for decades to come. It is available in number options but is comparatively costlier.
Pavers Made of Compressed Concrete
The compressed concrete that we make is four times harder than the poured ones. You will find it suitable if you are guarding your budget. The main advantage is you get wide option colors and shades.
In addition to the above types of paving stones, we can also meet your requirement of porous pavement options. If your purse is pressing you hard, you will find this type, a real replicate of the paving stone, and still enjoy most of its benefits.
Then why should you delay in calling Camarillo Concrete & Masonry at (805) 500-2715?
Pick-up your phone, and call us now!