About Camarillo Concrete and Masonry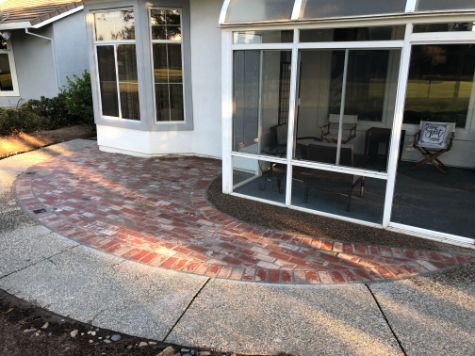 Let's not beat about the bush:  There are A LOT of stone and concrete contractors in Ventura County you can call to get some work done on your home or business. It's a tough field to compete in. And we're not here to barrage you with a hundred rhetorical questions like:
But can they do THIS? And can they do THAT?
Because as the famous Mexican outlaw from Eli Roth's vigilante movie, we know the score. We're concrete experts with years of experience. Calling on Camarillo Concrete and Masonry is calling on a team dedicated to doing the job right—on target, on point, and on time.
We don't worry about the other guys; our focus is on quality. Dial (805) 500-2715 today for free quotes from our expert concrete contractors.
Quality like what we bring to patios, pool decks, walkways, stairways, and so many other outdoor hardscape features. Coming indoors we can take of things such as countertops, flooring, fireplaces, and walls. We know how gorgeous natural stone looks. Famous sculptors like Bernini, Michelangelo, and Praxiteles recognized their potential from an early age. Today many of our clients insist on it. Marble is amazing for kitchens and bathrooms. Flagstone gives your patio the dignity of a medieval castle. Granite and brick reflect disciplined functionality.
Our skills with stone are matched only by what we can do with concrete. That may come off as lighthearted, but when one stops to consider just what concrete can do, it becomes anything but. Because concrete does pretty much whatever is asked of it. It can be colored to any shade on the wheel. It can be shaped, stamped, and finished. It's safe to walk on. It can be simplistically elegant or cleverly complex. To describe concrete with just one word, we'll choose versatile. 
When you choose us you'll get the same:  versatility. Nor is this about being a jack of all trades but master of none. In the field of concrete and masonry, we are masters. The experience and education is here to support the claim, as is our passion for the craft. When you call Camarillo Concrete and Masonry you're not just calling upon hard workers—you're calling upon artists.
It is with great care and precision that every stone must be placed, every brick aligned, and every inch of a concrete surface be finished to suit the job in question.
Call us meticulous. Call us fastidious. We love our work and the pursuit of perfection. Those sculptors mentioned above carried a well-justified reputation for wanting things to be just exactly a certain way to bring out the best in their work. We understand that. We have the same feelings for the work we do.
To find out more about Camarillo Concrete and Masonry don't hesitate to give us a call at (805) 500-2715. You're promised friendly service along with answers to all of your questions. That's the way we run our railroad:  Care and quality for every client.