Camarillo Outdoor Fireplace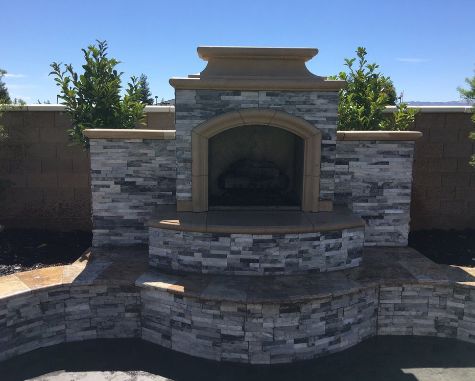 When it comes to keeping yourself, warm there is nothing ideal like an outdoor fireplace. Outdoor fireplaces have become popular in the recent past among homeowners. This is because they are suitable for any landscape design. Outdoor fireplaces look amazing when done by a professional concrete contractor. Give us a call at (805) 500-2715 anytime you need professional construction services.
Types of Outdoor Fireplaces
Outdoor fireplaces can be classified according to construction materials. There are three types; stone, brick, and block fireplaces. All of the three are amazing if done by a professional contractor. No one is experienced like us when it comes to concrete construction.
Talk to us if you are not sure which one you should go for. Our stonemason will help you pick the right one after evaluating the cons and pros of each one of them.
Benefits of an Outdoor Fireplace
An outdoor fireplace comes with many benefits.  Here is why you should contact us for an outdoor fireplace in Camarillo.
Entertaining
If you love throwing outdoor parties or spending your time outdoors, then an outdoor fireplace is what you need.  An outdoor block fireplace offers a good gathering place. You can have friends over and sip some drinks while you chat. Talk to us today, and we will make sure you get a place to chat and sip drinks with your friends.
Warmth
With an outdoor stone fireplace, you don't need to wait for warm seasons before throwing a party. Just give us a call, and we will make sure you get your friends over any time of the year. We are an experienced contractor. At Camarillo Concrete and Masonry, we can work on any type of outdoor fireplace, from a block to a stone or brick fireplace.
Adds Value to Your Home
Besides providing warmth and entertainment, an outdoor fireplace adds value to your property. People will pay any amount of money for a property with an amazing outdoor. This is a popular trend that attracts property buyers, and it will help you dictate the price.
Creates Ambience
Be it a block or stone fireplace; it will create an amazing outdoor ambiance. The ambiance created here is the best for relaxing or a romantic setting with your partner. A perfect outdoor fireplace sets the mood for any important function. Give us a call today and let us help get your home an amazing atmosphere.
If you don't have an outdoor brick fireplace in your home, you are missing out on a hell lot of fun. Pick up your phone and give us a call on (805) 500-2715.