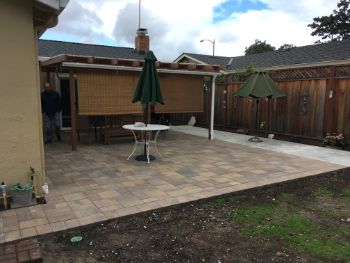 If it is a sunny morning, you would like to enjoy a cold drink with your friends while basking in the sun. Your ultimate destination is your patio. It is particularly important if the days grow longer with the change of weather. We at Camarillo Concrete & Masonry equate concrete with any kind of landscaping. But the stamped patio has proved us wrong. 
It combines the beauty of indoor flooring with unparalleled durability and elevates the status of cement and sand to design-savvy standards. You too can have at your home, its high-end appearance, and a comfortable price tag.
You can know further details by calling us on (850) 500- 2715 and have free quotes!
Why Do I Need A Stamped Patio?
You can go in for an expansive stamped patio and select the look, texture, and feel that suits your backyard layout. We can assure you of a stamped patio in a wide range of colors and depicting the antiquated and updated style. You will be enticed to go in for a stamped patio that will welcome you and your guests throughout the year, without missing a step. Your patio is your most personalized outdoor space at your home. You just can't make it inconsequential by adopting an alternative means. The one that we make for you will surpass your expectations. 
Design Options of Stamped Patio
Ashlar Slate
This pattern uses a combination of rectangular shapes that will give your patio a timeless appearance and eye-popping effect. The stamped concrete patios are cornered. When combined with color, your patio will be perceived as being made of cut stone.
Brick
If you honor tradition and like your stamped patio to look like the traditional brick, our experts will create bricks out of concrete. For a yet improved look, we can make the herringbone design for achieving the intended results
Wood
If you have a dream for a wooden deck but are hesitant for cost, we at Camarillo Concrete & Masonry can create wood out of concrete and stamp it on your concrete. It will have more durability than natural wood.
Random Stone
When we have the capability to create the look of any stone you name, why you should limit your choice to a single stone, our random stone design creates an appearance of naturally occurring stone.
Coloring Options for Stamped Concrete
We can apply many coloring options to your stamped patios
Integral coloring is added in the right proportion to the materials. This is particularly suitable for earth tones and pastels
Dye-shake color hardener, when laid on the surface of the concrete, provides a vibrant and intense palette. At the same time, it improves the density and strength
Surface-applied color is used with the first two options to make the texture and to look more natural. The colors used are stains, dyes, and tinted release agents
We understand, having known the options, you may be inspired to do it on your own. Please don't even think of it. We at Camarillo Concrete & Masonry are always available to further guide you in this regard.
Call us at (850) 500- 2715 for your Camarillo stamped patio.