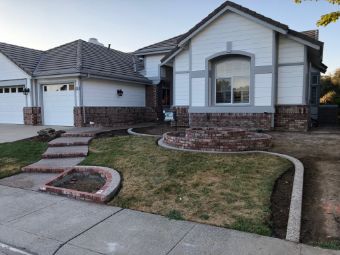 Who does not want safe, secure, appealing, and durable construction work? Well, obviously durability and look are the factors that are considered by each and every homeowner. Walls made of bricks not only provide the above-mentioned qualities but are also affordable when handled by the right brick masonry.
Getting assistance from an experienced bricklayer is the best option as they have experience in completing all types of brickwork without any hassles. We, at Camarillo Concrete & Masonry, can help you meet your expectations as far as your brick masonry needs are concerned.
Call us on (805) 500-2715 for more information and have a free estimate!
Why Choose our Brick Masonry Services?
Experienced Camarillo brick masonry professionals can complete difficult tasks such as brick pointing with ease. Our professionals have vast experience in all kinds of brick masonry related jobs. They can offer you the top result as they possess the vital skills needed to ensure your work is structurally sound to ensure safety.
Our Brick Masonry Services come with no Hidden Costs
When you try to complete a home renovation project with an amateur brick masonry contractor, then you will end up worrying about the total cost associated with the project. An amateur bricklayer may not be able to prepare the cost estimation properly and may offer to end up consuming more funds than your budget allows.
But, our experienced professionals can offer you the right picture of the financial challenges associated with the project. You will not get caught by surprise with hidden costs whatsoever. So, you can expect the work to be completed as per the schedule and without spending over the estimated budget.
Experience is Necessary for Complicated Brick Masonry Projects
Seeing videos or researching on the internet may not help you in critical projects. You need the experience and skills to complete such projects. Like in any other trade, the experience is essential to ensure the completion of the project that needs technical expertise. By trying to complete such hard tasks yourself means you are setting yourself for failure. Let our experienced professionals help you with complicated assignments.
We Love Challenges
You cannot predict how your project will proceed. So, if problems show up, then you will end up losing time, money, and effort as you will have no idea how to proceed. But, our brick masonry professionals can take the challenges head-on. Apart from that, our professional colleagues know how to get the most of the materials. So, the project is completed in a timely and efficient manner.
Our Brick Masonry Services are Time-Bound
Hiring professionals for the project ensure you can complete the project on time. The final look will meet your expectations and vision. Due to the project meeting the highest standards, it will last for a long time. Our licensed bricklayer can give a guarantee for their work in case if something goes wrong. When you do everything yourself, it is risky as you are prone to making mistakes, which will result in a loss of money.
With the professional brick masonry on board, the chances of getting the best results within the budget and suggested deadline becomes easy. So, it is important to hire a professional to complete projects like a brick fireplace, brick floors, or brick wall in your home for timely completion without any room for error.
Excited!? Want to know more? Contact us, your favorite bricklayer at Camarillo Concrete & Masonry, on (805) 500-2715 and our experts will be right with you to help you with your project!