CAMARILLO CONCRETE AND MASONRY

Camarillo Concrete Contractor and Masonry Contractor
What is the first thing you think of when you read the words concrete and stone masonry? It might be a bunch of guys working in the hot sun, pouring material into a form or stamping pavers. Perhaps the mind leaps further ahead than this to a job already finished:  A limestone patio at sunset made replete by a brick fireplace with a pizza oven.
Both visions are accurate. We do indeed work hard for our clients because we know they expect nothing less than the most dedicated professionals in the field. And when the work is done…why yes, you're going to be happy with that too (albeit we must leave the part about cooking pizzas up to you). For any need you may have with concrete or stone masonry, Camarillo Concrete and Masonry is here to help.
Getting started is as simple as calling our expert concrete and masonry Camarillo team at (805) 500-2715 and get free estimates.
Your Best Choice For Concrete and Stone Masonry
A good contractor is fully aware of what actually makes a good concrete contractor. That's only sensible. Here are but a few of the assets we bring to the table: 
Passion for exactness, detail, and precision in all the projects we do

Regular communication with the client—no guesswork, no assumptions; for us, it's all about you

Friendly service with a willingness to answer all of your questions

Tough workers with years of hands-on experience
Now it's time to get into a little more detail. Wondering exactly what it is that we do for our customers? Only everything you're about to read plus so much more. Give us ring for any Camarillo concrete or masonry work at (805) 500-2715.
CAMARILLO CONCRETE CONTRACTOR
As you're likely aware, it's been a long, long time since concrete has thrown off the stigma of being gray and dull. Seventy years long at least. These days there are so many things concrete can do it would take a book to discuss them all. We won't take up that much of your time, but let's look at some examples.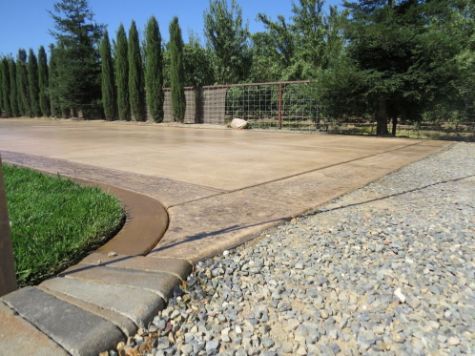 Whether you're in search of a clean, simple look or something more complex, it can all be done by our team of experts. That classic gray look with sharp, straight edges might be just the ticket if you're looking to emphasize softscape rather than hardscape. Or instead of plain edging, perhaps some decorative borders would look nice. These borders can be of brick, colored concrete, stamped concrete, or even natural stone. It's all about the picture you intend to achieve.
Should that be a little more focused on complexity, we can indeed do myriad things for your entire driveway. Our stamped concrete service ranks with the best in the business. Stamping is the process of imprinting designs or shapes into uncured concrete for purposes cosmetic, functional, and/or reciprocal. By reciprocal we mean that concrete can actually be stamped to mimic exotic natural stones like granite, terracotta, or limestone, to name but a few. This process comes at a lesser cost and looks so close to the real thing most people can't tell the difference.
Since the 1950s colored concrete has made huge strides on the artisan's palette. In fact, we're fairly confident that any color of the rainbow can be captured for your Camarillo concrete driveway. This color is added to the mix while the concrete is still wet, meaning it works just like a dye to affect the entire mixture right down to the center. We can even help with choosing the right color to compliment—or contrast—the landscape should you request it.
Let us know what kind of driveway we're going to bring you, for normal and stamped concrete driveways call us at (805) 500-2715!
Everything we do with driveways we can certainly do with patios. Maybe even more. Remember that outdoor fireplace we mentioned?
Having friends and family over for a visit is certainly made more cozy by the crackle of evening flames. Some clients even like to have these fireplaces built into a concrete retaining wall that separates trees and grass from the hardscape.
Your Camarillo concrete patio can be given the right color, design, and shape to blend perfectly with the surroundings.
Color

choices are basically infinite, as we can give you primary, secondary, and tertiary along with everything to be found in between
Design by our stamped concrete services also provides a magnificent array of options for the look of natural stone, brick, or any concrete patterns that appeal to you
Shape

is no obstacle for us either as we are more than capable of creating forms quadrilateral or triangular to match your taste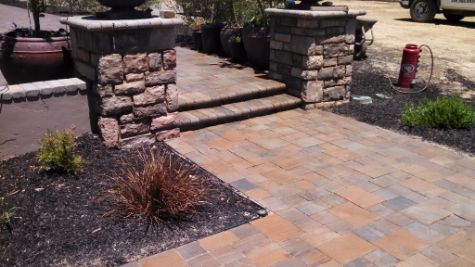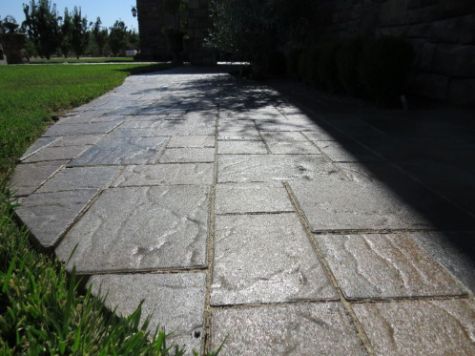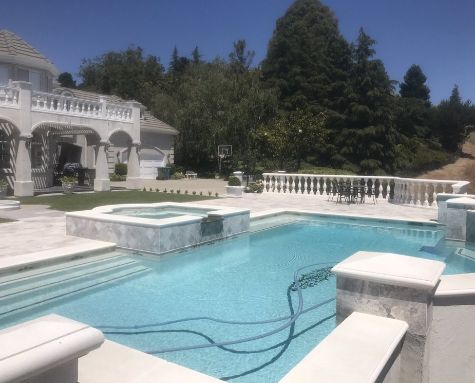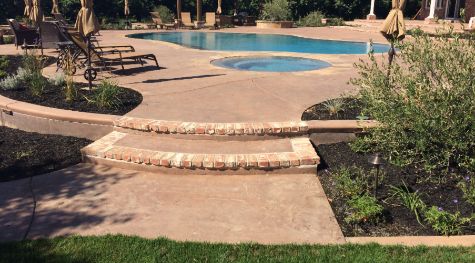 Pool coping works as a kind of border around your swimming pool. It provides some much-needed protection for swimmers. Its smooth, rounded edges are safe to grasp and slip-resilient. And with the versatility of concrete, it can also be made to compliment the water, pool base, or deck.
A Camarillo concrete pool deck can be decorative just like the above mentioned, though in this case we like to recommend a slightly rougher surface that's easy for wet feet to walk on. Poured concrete with a brushed finish works great for this because the grooves created with the brush do indeed make it easy to walk on, though our stamped concrete service gives other solutions as well. Poured concrete pool decks are also water-resistant.
And speaking of easy walking, did you know that we can apply a finish to the concrete that keeps it cool even in direct sunlight? Once it's complete, this procedure gives you what is commonly known as a pool deck.
No need to burn bare feet anymore whilst crossing the surface to get a towel.
With a cool deck those hopping Ow! Ow! Ows become a thing of the past. Get a new pool deck, get one resurfaced, refinishing, re-whatever, we got you – (805) 500-2715.
Concrete retaining walls not only make the landscape of your home or business look handsome; they also give extra support to grassy hills, trees, or even gardens.
As with all of our Camarillo concrete services, these walls can be decorated to boast just about any look you have in mind.
Camarillo Concrete and Masonry also does CMU walls, block walls, and more.
Contact our concrete and masonry team today for free estimates and more information.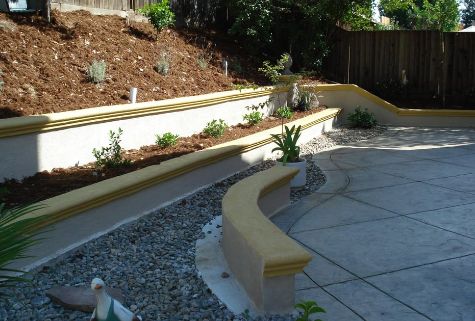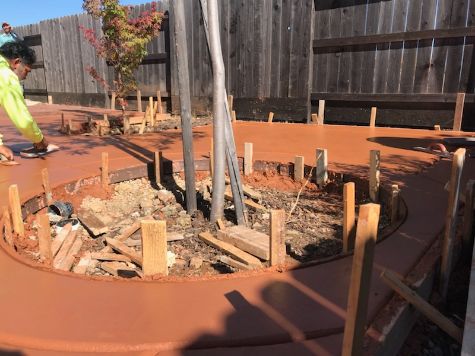 Already have your dream project in place but feel like it might be ready for a touch-up? Not to worry, because concrete refurbishing falls directly under our scope. We can do this from the ground up, or resurface the concrete using the existing base as a kind of canvas (this method comes at a much lower cost than the former and is almost always the go-to choice).
Concrete pavers can be placed—and replaced—on the fly for near-instant results. Salt finished concrete is a wise option for pool decks; salt sprinkled onto wet concrete and then removed after drying leaves behind dimples for a safe, non-slippery surface.
We do our work just as well inside as out. Kitchen and bathroom countertops, flooring, and concrete stairs become things of beauty at our touch. We can stain those fixtures to create a mesmerizing illusion of depth that'll stop visitors in their tracks. A simple call to our services can make it all become reality, let's go!
Contact us at (805) 500-2715 for free estimates!
CAMARILLO MASONRY CONTRACTOR
Many of our clients choose stone masonry over concrete for its aesthetic charm. Others are attracted to the legacy, elegance, and near mysticism of its very presence. Marble flooring is borderline inimitable. A flagstone patio carries an echo of medieval times. Fireplaces and chimneys of stone veneer have texture wherein silica granules glitter with numinous light. And then we have a brick. Quaint and organized. Rugged and colonial. Calling us is always the right choice for any of your masonry needs.
For whatever feature you want for your home or business, natural stone will always get the attention of guests. An old stone wall, or rock wall, around the perimeter of your property can make people think of literature. Mortared walls can be stacked higher (than, say, a dry-laid wall, which doesn't use mortar), and if you choose stone veneer (a thinner slab of stone fixed to a concrete backing) you can get the look for a fraction of the usual cost. Stacked stone can also be used in place of stone veneer should you wish to forgo concrete altogether.
Stone pavers are often used to construct walking areas such as patios, decks, and pathways. They come pre-cut and ready to install, though their sizes tend to vary. These pavers are not only nice to look at, but they can literally endure hundreds—even thousands—of years' usage. We also add stone pillars to gateways and doorways. The right pillars can give a dignified welcome (and farewell) to visitors that rival any butler in a coat and tails.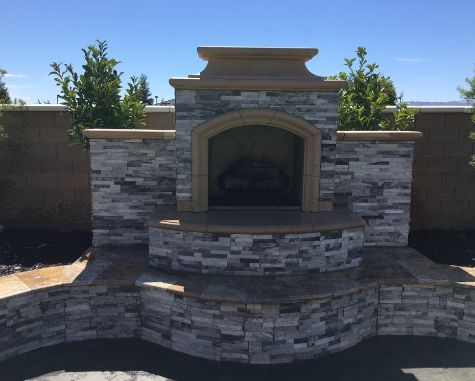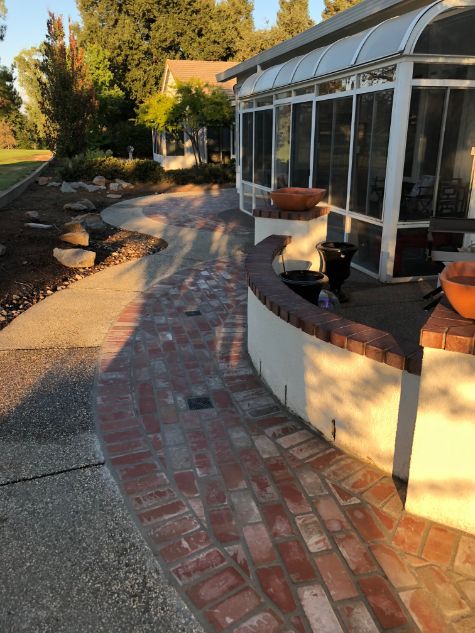 Those same patios, decks, and walkways we just mentioned can also be laid with brick pavers. Lots of our Camarillo masonry clients also love the look for their driveways, bordering them with different colored bricks that draw the eye forward to that happy home or enthusiastic business.
For fireplaces, of course, there is nothing quite like a brick. We've seen them everywhere from holiday TV specials to Norman Rockwell paintings. It's a look as timeless as it is whimsical, especially in the warm glow of crackling flames. 
You may even wish to have an outdoor fireplace built on your patio or pool deck. That same area can be bordered with a brick wall high enough for privacy but low enough for the style.
And speaking of style, did you know that brick doesn't have to be just red? Of course, you did. But just think of the many different looks you can achieve with color. And then there's decayed brick, which looks flaked and ancient.
What kind of brick work should we bring to you, call us at (805) 500-2715 to talk it over.
Somewhere up above we mentioned concrete retaining walls, but we would be remiss to leave out that, yes, we can install the same using natural stone or brick. Any kind of retaining wall you wish us to build is not only going to look great but function as reinforcement for the landscape as well. It's going to prevent steep soil from tumbling downward onto places you'd rather it not go, and it's going to do it with class.
Camarillo Concrete and Masonry is your number one contractor for all things concrete, stone, or brick. Giving your landscape professional care is our top priority.
We're always glad to hear from you and we're always here to help.
Call us today at (805) 500-2715 to get free estimates.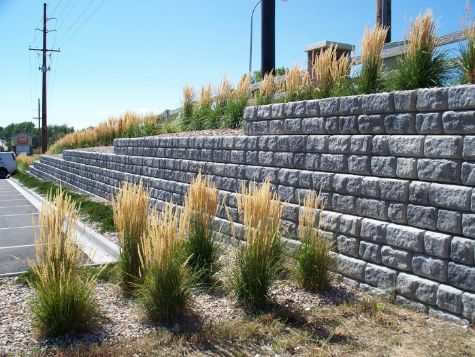 Camarillo Concrete & Masonry offers concrete works in numerous cities. These include cities such as Simi Valley, Oxnard, Thousand Oaks, Ventura, Moorpark, and Newbury Park to name a few. From foundations to driveways and everything in between you can count on us for all your concrete needs. If you're interested in adding concrete to your home or business's exterior, we would love to hear from you! Contact us today for a free estimate on the cost of your project.
Contact Camarillo Concrete & Masonry For More Information