Thousand Oaks Concrete Contractor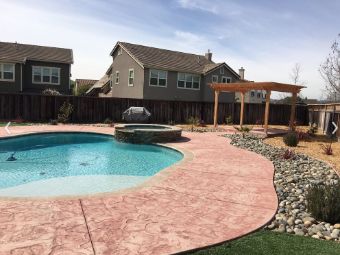 In California, United States, Thousand Oaks, is the second-largest city. For tourists around the world, this place has always been a great attraction. One can visit the Paradise Falls, Ronald Regan President Library, Wildwood Regional Park, and so on. When it comes to parks, the main attractions are always beautiful architectures, buildings, etc. that entertain you a lot. 
Not only the parks, if you concentrate on the houses, bridges, and other constructions of this city, you will find how adorable those are. Do you know why such constructions are so sturdy and robust? It is because those are the concrete constructions of Camarillo Concrete and Masonry. We are one of the leading concrete contractors in Thousand Oaks that are known to provide its customers with the top services.
Please give us a call at (805) 500-2715.
Thousand Oaks and Concrete Constructions
Whenever you think of concrete, you get the vision of a dull and grey material only. But, those are the stories of long ago. In the last 70 years, concrete has changed a lot, and this company has enough contribution to that. Today, concrete can be used in various ways, and Camarillo Concrete and Masonry have shown how versatile we can be in using concrete. Have a look-
Thousand Oaks Concrete Driveways
Whether it is a simple driveway or you can prefer a complex design, the expert team of this company can provide the exact thing what their clients want. If you prefer the traditional style of driveways, go for the gray concrete ones that look simple and sleek. We will provide you with designs like adding decorative borders of brick, stamped concrete, colored concrete, natural stone, and so on. We can do a lot to design your driveways beautifully. While you consult Camarillo Concrete and Masonry, you can get help in choosing the right color of your driveways to complement the landscape.
Concrete Pool Decks in Thousand Oaks
If you are planning to have an amazing pool deck, you can always consult Camarillo Concrete and Masonry. The pool deck is the boundary around the swimming pool that protects the swimmers. The edges are smooth and round-edged and slip-resistant. Only concrete can provide such construction. Once you consult this company, we can give you the best idea about the construction of a pool deck with concrete. 
We always prefer a bit of rough concrete pool deck as that is safer to walk with wet feet. You can go for their poured concrete with a brushed finish. If you already have a pool deck and want to remodel or refurbish it, Camarillo Concrete and Masonry is the ultimate solution.
Concrete Patios for Thousand Oaks Home
Whenever you think of a beautiful patio, it is Camarillo Concrete and Masonry that can help you the most. Once you contact them, you will be overwhelmed with options in colors, shapes, and designs. Besides the stamped concrete services, we will also provide you with designs of stones, brick, etc. along with numerous concrete patterns. You will be surprised to experience their knowledge of shapes while creating different shapes of patios.
So, it is quite clear why you should contact Camarillo Concrete and Masonry. If you want to remodel the outside of your house with concrete, we are the best one to contact at (805) 500-2715.