Camarillo Concrete Resurfacing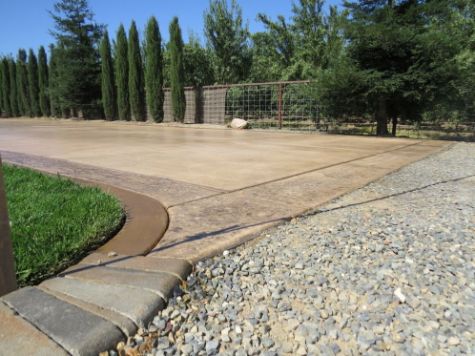 Although concrete surfaces are strong and durable with time, they can wear out and become unattractive. Replacing them can be costly and time-consuming. The only option left is resurfacing. There are several techniques that can be used to bring your floor's beauty back.
At Camarillo Concrete and Masonry, we offer the best refinishing services. If you talk to us, we will make sure your old worn out floor shines again. This service of concrete resurfacing in Camarillo is guaranteed to make your concrete floor amazing again, no matter how damaged it is.
Call us at (805) 500-2715 for free quotes.
How It Works
Depending on the degree of damage, our concrete finisher will employ different styles to achieve a better surface. The first step involves removing the damaged areas using special equipment. The surface is then reshaped and filled with concrete.
This procedure requires a lot of knowledge and experience, and we don't advise trying it on your own. Only a professional concrete finisher can achieve this.
Benefits of Concrete Resurfacing
This service has several benefits. Here is why you should talk to us if your concrete surface wears out or is damaged.
Cost Saving
There is no need to go for an expensive option when there is a cheap one. Concrete resurfacing saves you the money you would have spent replacing the whole floor. Tell us about your budget, and we will make sure you get an affordable and professional service. We are a concrete contractor you can trust for all your concrete work.
Easy Maintenance
A resurfaced concrete floor is cheap to maintain.  You don't need to buy anything or hire anyone to do it. Regular cleaning is all the maintenance you need to do. Clean at regular intervals for a long-lasting effect. This is the ideal option if your budget is tight.
Gives Your Floor a Better Look
This is the best way to get your house looking better again. If your concrete is damaged, talk to us, and we will transform your house. Refinishing will make your house look new and amazing. Choose one of the many designs available, and we will give you house a whole new look.
Long-Lasting
Your concrete surface will last up to another decade after resurfacing.  This procedure gives your surfaces the ability to resist abrasion, stain, and penetration. Your surfaces will now withstand common causes of damage. There is no need to replace a whole concrete surface.
Just give us a call at (805) 500-2715 for any concrete work and get a free estimate.
We will get to work and make sure your home looks amazing again.