Camarillo Concrete Countertops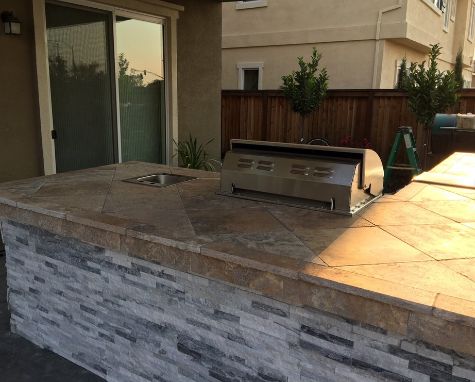 Concrete countertops are preferred over other types thanks to their strength and durability. This type of countertop comes in many colors and designs. To get the best concrete countertop in Camarillo, you need to get a professional contractor to do it for you.
If you want your countertop done by professionals, give us a call at (805) 500-2715 Camarillo Concrete and Masonry and get free estimates.
Advantages of Concrete Countertops Installation
If you are looking for a  long-lasting countertop, then concrete is the ideal option. Its durability will save you from spending unnecessary money on repairs.  Besides its strength, it adds an aesthetic value to your kitchen or bar. This strength comes in handy if you want an outdoor countertop.
Another reason why should go for concrete is that it has many customization options compared to other options like stone countertops. You can have it stained or colored according to your preferences.
Disadvantages
When it comes to upgrading your home, the cost is an important factor that can't be ignored. Concrete can cost more than other types of countertops.  That is why you should talk to us about affordable concrete services. We understand how home improvement can be costly. Talk to us about your budget, and we will deliver affordable and quality services.
Another disadvantage of concrete countertops is that they take time before they are ready. If you want a countertop within a week, then concrete is not a good choice.  After it has dried, you can then get a concrete finisher to give it an amazing look. It may take several weeks before you can use your countertop.
Other Options
If concrete isn't your thing, then talk to us by calling (805) 500-2715, and we can get you any of these countertops installed.
Granite Countertops
This type of countertops is a good alternative to concrete due to its durability and beauty. This type of countertop can be cut with different edges. Granite countertops are easy to clean and maintain. It is also heat resistant, so no need to worry about the heat if it is a kitchen countertop.
Stone Countertops
This option is ideal if you want to construct an outdoor countertop. It is resistant to harsh weather conditions; it can last for a long time. Although it is durable, it is not a good choice for kitchen countertops. It is quite expensive.
Give us a call today if you need a countertop in your home. We are experienced in constructing both indoor and outdoor countertops.
Talk to us on (805) 500-2715 for free estimates.