Camarillo  Stained Concrete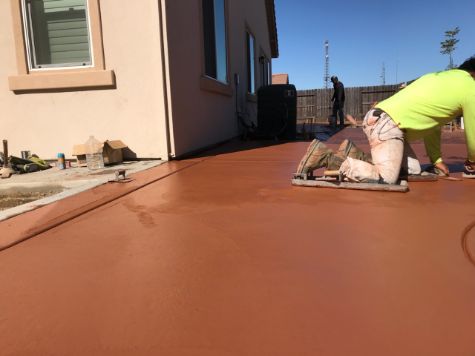 If you are looking for professional stained concrete services, then you have come to the right place. We are a professional concrete contractor with years of experience in concrete staining in Camarillo. For the best stained floor, you should hire a trusted contractor.  We have been in the construction field for a long time, so we are a contractor you can trust.
Dial (805) 500-2715 for free estimates.
Staining gives your floor a lavish shiny look that can't be achieved by any other coloring agents. Stains make your floor amazing by permeating the concrete and infusing it with a beautiful translucent, luminous tone. The tones vary depending on the application techniques and the floor is stained. Just like any colored concrete work, staining requires professionalism and experience, and at Camarillo Concrete and Masonry, we have just that.
Your floor can be stained to mimic anything you like from stained wood to natural stone to polished marble or even tanned leather. The best thing with staining is that it can still work on colored concrete.
Types of Stains
Stains for concrete come into two categories water-based acrylic and acid-based chemical stains.  Both types work fine with new and old concrete surfaces.  They are effective in turning dull lackluster concrete surfaces into shiny. These two types of stains have exceptional UV stability, and they don't wear easily. For this reason, they can be used on exterior concrete surfaces. They can even be used on kitchen countertops and outdoor countertops.
Stains work by penetrating the concrete surface and reacting with the hydrated lime in the cement. The acid in the stain enables the metallic salts to penetrate the concrete. The salts then become part of the concrete after the reaction.
Benefits of Concrete Stains
Affordable
Staining your concrete floor is cheaper compared to other decorative concrete methods.  This method is the best option for decorating large concrete areas like business premises.
Durability
Concrete stains are durable.  They are resistant to fading chipping and peeling. Concrete stains can stand harsh weather conditions and resist wearing out for a long time.  To further strengthen your concrete stain, you can seal it with epoxy and urethane.
Low Maintenance
You will spend less on maintaining a Camarillo stained concrete. The smooth surface is easy to clean and doesn't require a lot of maintenance. Concrete stains won't trap dust and other allergens; hence it improves the indoor air quality.
Attractive
Staining transforms dull, unattractive concrete floors into amazing shiny floors with a luxurious look. With just acids, you achieve an expensive-looking floor that is durable and easy to maintain. You can achieve an expensive-looking marble-like floor. This is the best option to make your floor look amazing again.
Hire Camarillo Concrete and Masonry
Do you need your concrete surfaces stained? At Camarillo Concrete and Masonry, we offer the best staining services. If you want to give your floor a luxurious look, then we are your contractor.
Reach us at (805) 500-2715, with a free estimate and we will leave your floor looking attractive.