Camarillo Stamped Concrete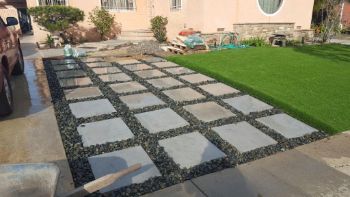 The applicability of concrete is no more limited to strength, durability, and traction. It now plays an important role in fashion and style. The latest trend in the innovative and modern style to your existing floor, stamped concrete is a great option for you. As the name suggests, you can stamp any design or pattern of your choice on concrete even while it is in a fluid or semi-solid state. We at Camarillo Concrete Masonry have myriads of designs and patterns to fulfill your dream.
Call us at (850) 500-2715 for free quotes.
Technique Behind Stamped Concrete
The techniques adopted are embossing, patterning, or texturing. You may be intending that your patios, pathways, pool decks, interior flooring, or sidewalks to look to be made out of authentic materials such as slate, brick, or any kind of stone. But installing these original materials would cost you more. If your budget does not permit you, there is nothing to be disappointed about. We at Camarillo Concrete & Masonry have the technique, know-how, and experience to make stamped concrete that resembles the original slate, brick, or wood. When you install them, none other than you know that they are virtual, not the real ones.
Distinguished Procedures of Concreting
Why people search for Camarillo Concrete & Masonry when they want certain distinguished characteristics in concrete made by adopting distinguished procedures. There are three procedures used in Camarillo stamped concrete that not all concrete makers can do. These are as follows
1. Adding a Base Color
We add a color hardener, a powder pigment, to the concrete to produce a base color which is the primary color of stamped concrete. The base color reflects the intended color. We adopt two methods for applying color hardener. An integral method, we dye the entire volume of concrete with a base color. The second method that we adopt is cast-on color in which only the surface of the concrete is dyed by spreading the color hardener.
2. Adding Accent Color
This is the secondary color used in stamped concrete to produce texture by color release. While the pigment colors the concrete, it does not stick to the concrete because of its non-adhesive characteristics. We also have provisions for spraying the bottom of the concrete stamps before stamping the concrete.
3. Stamping Patterns
We take special care while stamping patterns that have the shape of the natural building materials and natural stone structure. We make the pattern by imprinting shortly after the concrete has been poured. Stamps made of metal or polyurethane are placed on the concrete after the application of color release.
Stamped concrete is weather resistant and is the perfect option to make your surrounding spaces, natural. It is durable and easy and economical for maintenance. You should never try to do it yourself else; the whole purpose of stamped concrete will be defeated.
Call us at Camarillo Concrete & Masonry today at (850) 500-2715 for a free estimate and leave the job to us. Just indicate the color you would like to have.