Camarillo Decorative Concrete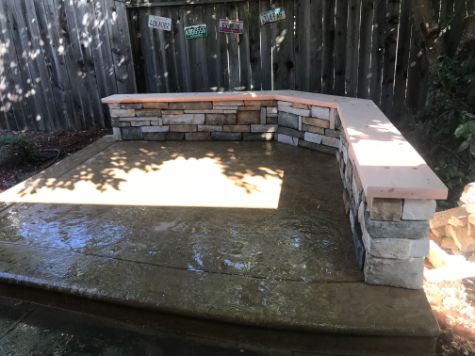 Are tired of dull walls around you? Then here is good news. With the help of new concrete decoration and resurfacing technology, we can now make your walls amazing.  At Camarillo Concrete and Masonry, we use this technology to make those dull concrete surfaces look trendy and stylish.
All you need to is contact us at (805) 500-2715 and have a free quote.
With resurfacing technology, any concrete surface can be given a whole new look. There is no need to remove and replace the whole surface.
This saves you a lot of money you would have spent removing the surface and replacing it. We know how it is hard for you to choose the best resurfacing products and styles. That's why our qualified team will advise you on the best choices available.
Outstanding Decorative Concrete Team
At Camarillo Concrete and Masonry, we offer excellent concrete decoration services. Our team of constructors is committed to giving exemplary concrete services. Customer satisfaction is our main goal. With our affordable prices, you are sure to be satisfied.
We take into consideration several factors like your budget, preferences, and the site. In the end, all we want is to give you the exact decorative concrete surface you wanted. However, complicated your preferences are, our experienced team will handle it.
Decorative concretes come with several advantages over ordinary grey concrete floors. For instance, concrete patterns can make your floors non-slip.
Decorative Concrete Styles
Stamped Concrete
With stamped concrete, there are unlimited possibilities. It can be made to mimic any other material like stones, brick, slate, and cobblestone. Imprints of nature like shells can also be made on it.
Stamped concrete can be used both inside buildings and for outdoor concrete needs. Outdoor countertops, driveways, and patios can be constructed using this style.
Stamped Overlays
This style allows us to create different textures to imitate any texture you want. This process involves the use of rubber imprinting tools. The rubber tools are gently pressed onto poured thin pre-mixed concrete.
The concrete dries with the made imprints intact. Release agents are used to preventing rubber stamps from sticking in the concrete.
Engraving Concrete
Dry concrete can be engraved to form patterns and shapes of your choice. Special tools are used to make precise cuts and drawings. We have enough experience in concrete engraving, and no patterns or styles can be hard for us. Just give us a call, and our team will give an amazing decorative surface.
Concrete Dyes
Concrete dyes have been improved. They can now change the color of your concrete surface and stay for a long time without fading. However, when exposed to direct sunlight, the fading can be intense. They are ideal for indoor decorative concrete.
Hire the Best Decorative Concrete Experts in Camarillo
When it comes to concrete work, we are experts, and we are here to help you.
Contact us at (805) 500-2715) for free quotes whenever you need a decorative concrete surface in Camarillo or any concrete work done.
You will get quality services at an affordable price.