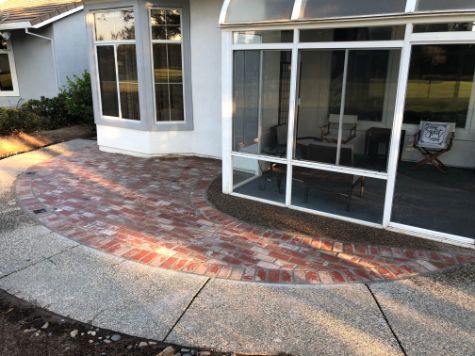 We are a masonry contractor committed to providing exemplary concrete services. At Camarillo Concrete & Masonry, we pour strong and durable concrete slabs. Slabs enhance the overall strength and lifespan of a structure. That's why you should give us a call to ensure you get a slab that will strengthen your structure.
Pouring large concrete slabs requires a professional concrete contractor. But if you want to pour concrete slabs for small projects like driveways, then you can do it without expert help. Mistakes in concrete slabs for bigger structures can be fatal.
So, if you can't do it on your own, contact us at (805) 500-2715 for free quotes at Camarillo Concrete & Masonry for reliable concrete slabs.
Top Concrete Slab Contractor
Concrete slabs are classified as either suspended or ground bearing. Let's take a look at the two common types of concrete slabs.
Ground Bearing Slabs
They are also referred to as 'on-ground' slabs. This type of slab is ideal for ground floors. It is commonly used for domestic construction and for commercial structures. Ground bearing slabs are economical and an easy construction method on non-relative sloppy soil.
Make sure the ground is leveled thoroughly before pouring concrete mix. An uneven ground causes thee concrete to cure unevenly. This results in an uneven expansion, which leads to cracking. If leveling is costly, use the cut and fill method to obtain a level concrete slab.
The cut and fill method involves digging into the higher ground and filling the lower side with soil. This type of concrete slab is usually reinforced with steel bars.
Suspended Slabs
We employ several designs are to improve the strength of suspended concrete slabs. In all these designs, only the underside is modified. The surface remains intact and flat. Here are some designs that we use to strengthen suspended slabs.
Corrugated Slabs
In this design, a constructor pours ready mix concrete into a corrugated tray usually made of steel. The steel tray improves the strength of the suspended concrete slab.  Decking prevents the slab from collapsing or bending under its own weight.
Waffle Slab
This design utilizes the matrix of recessed segments below the slab to give additional strength to the slab. Waffle slabs go deeper than any other slab design, and they require a strong foundation. They provide strength in two dimensions. This helps in the resistance to vibration and soil movement.
Ribbed Slab
Unlike the waffle slab, the ribbed design gives strength only in one direction. In this design, concrete beams are placed between columns or piers and thin integral beams in the perpendicular direction.
Hire Camarillo Concrete and Masonry
To make sure your structure is strong and can resist harsh conditions, talk to us at (805) 500-2715 for a strong concrete slab in Camarillo.
At Camarillo Concrete and Masonry, we know how weak structures can cost you money and put your safety at risk. Let's do it for you, and you will love our services.