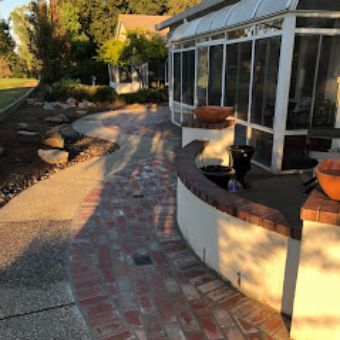 Brick Pavers provide a natural and classic look to the patios, garden pathways, and driveways. They are formed from compressed clay, which is heated at a very high temperature. This is why they are quite durable. Apart from being durable, they also come in various earth-toned and natural colors depending on the soil from where clay is collected.
Camarillo Concrete & Masonry is the industry leader as far as laying brick pavers is concerned. We are experienced in laying brick pavers of different ranges, such as simple bricks with flat edges as well as interlocking brick pavers.
If you need Camarillo brick pavers installation an to add a touch of elegance to your property, our phone number (805) 500-2715 can come in handy and have free quote!
Basics of Brick Pavers
You must know that true bricks are made up of natural clay and not artificial mixes. After collecting top-notch clay, the desired shape is given to it and then is heated at a very high temperature. When the clay comes out of the fire, it becomes virtually impermeable and strong. Such natural bricks come in limited colors and shades based on the area they have collected them. Many manufacturers use bricklike pavers that are made from concrete and then dyed into brick color. However, these are not true brick pavers.
Regular Brick vs. Brick Pavers
Bricks are laid vertically or flat. Vertical bricks with the holes are used for the garden walls, houses, or other structures the need walls. Pavers are strong and solid bricks that are made to lay flat. Any flat-sided or solid brick can be used as a paver. But for easy installation and tight fit, interlocking brick pavers are used. These pavers are attached with ridges so that they can fit together properly without any significant gaps.
How to Lay Brick Pavers?
When you are planning to install a new pathway or patio, then it is essential to get started with a good foundation. For a good foundation, you must use high-quality brick pavers. Below mentioned is the step procedure to lay brick pavers.
Firstly, you have to level the location and remove rocks, weeds, and roots.
Once the surface is graded and flattened, then black plastic or weed cloth has to be laid down. This is required to discourage weeds from growing within bricks.
Then, a layer has to be laid down on the weed cloth and make the surface flat.
After completing all this process, bricklayers have to be laid on the sand.
The brick pavers are then nicely fitted together to form a surface that is compact and smooth.
How to Maintain and Care for Brick Pavers?
Pavers made of brick do not require any special care or maintenance. But if you want your patio to look beautiful and new for a long time, then it requires proper sealing at regular intervals. Brick pavers function best when the moisture is released and absorbed. The paint, sealants, and water repellants must not be used as they prevent the brick from doing their function. You can use a scrub with a soap to remove stains and moss.
So, if you are on the lookout to install brick pavers that not only look great but also last long, please consult one of our expert brick pavers at Camarillo Concrete & Masonry at (805) 500-2715 today with a free estimate!